The growing use of monitored, supervised release by the United States Judicial System
A new wave of legal reform is sweeping the country. From Florida to Texas to Illinois and New York, monitored, supervised release (the use of GPS ankle bracelets, Constant Alcohol Monitoring (CAM) bracelets and house arrest monitoring to actively track and monitor accused plaintiffs) is redefining the status-quo surrounding the cash bail release system.
Each year hundreds of thousands of US citizens are remanded into custody. They are remanded not necessarily because they are offenders convicted of a crime, but more likely because they cannot afford the bill of their set monetary bonds (Aborn & Cannon, 2013). On the other end of the spectrum, some accused offenders get released easily. Even though these offenders check off all the boxes of 'high risk,' they can afford to offset their monetary bonds (The Coalition to End Money Bond, 2018) and are released. The disparity in the justice meted out to individuals governed by the same laws highlights the inherent flaw in the present judicial system. One that monitored supervised release is set to remedy.
Incarceration has many displeasing effects
For Lavette Mayes of Cook County, it was one Christmas, two missed Mother's days, and unpleasant memories of time spent away from her kids (The Coalition to End Money Bond, 2018). With her monetary bond set at a sky-high figure of $250,000, Mayes and her family could not afford her bail which invariably meant they could not afford her freedom (The Coalition to End Money Bond, 2018).
Sadly, Ms. Mayes case is not isolated. Over 70,000 not convicted but accused offenders are incarcerated yearly (The Coalition to End Money Bond, 2018).  On a national scale, that figure is unsurprisingly higher with no less than 450,000 people jailed annually in county prisons as they await trial (Gupta & Frenchman, 2017). Of this lump sum, a staggering 90% are in jail because like Mayes, they could not afford to post a monetary bond. While these individuals bear the major brunt of the monetary bond system, its effects are not confined to only them. The society also shoulders a large share of its consequences, and concerned parties are beginning to make conscious moves (Open Society Foundations, 2012).
The Changing Face of the Client Pay Monitored Release
In an attempt to alleviate the adverse effects of bail bonds, many local groups and judges are advocating for a working solution. On July 9, 2018, this drive reached a critical milestone when a federal court nullified the defacto guarantee criminal defendants had for freedom via cash bails (Hernandez, 2018). The verdict came after the federal lawsuit involving the State v. Brittan Holland. Holland filed the lawsuit to challenge the constitutionality of a judge's ruling that placed him on house arrest with compulsory monitoring via a GPS device. He lost the suit.
July 9's ruling affirmed the legitimacy of this decision and in so doing set a precedent for the promulgation of monitored release systems nationwide. Like New Jersey, virtually all states in the US are pushing forward for conditional, supervised release schemes (Subramanian et al., 2015). In Florida, for instance, the program orchestrated by Broward county has gained so much traction that its impacts are well felt in the county's judicial system (Lukic, 2009). Overall, pretrial release methods account for about 60% of inmates released from prison in Broward County (Lukic, 2009). When compared to the alternative that every inmate cost the County $109 per day, it is easy to gauge just how impactful conditional, monitored release has been financially (Lukic, 2009).
From 2005 until 2009, the expenditure of Broward's county pretrial release program all but doubled, up from $2.3 million to $4.5 million (Lukic, 2009). Palm Beach County also runs a similar pretrial release system with Broward County. For Palm Beach, however, supervision costs are 150% of what it is in Broward County (Lukic, 2009). Central to this progressive rise in expenditure is the increasing number of defendants getting coverage under the scheme and the concurrent increase in the extent of supervision. In Broward County alone, usage of electronic monitoring devices grew by 31% (Lukic, 2009).
The use of monitoring devices will only keep on increasing
Broward County is not isolated in its quest for a fair and equitable system of handling pretrial detainees. Nationwide, the overall number of accused persons and sentenced criminal offenders who are monitored with GPS ankle bracelets, Constant Alcohol Monitoring (CAM) bracelets, and House arrest monitoring systems has escalated by over 140% in the last 12 years (Pewtrusts, 2017). All 50 states in the country including the Federal Government currently use these technologies to a certain degree for both sentenced offenders (including those on parole), and pretrial defendants (Pewtrusts, 2017).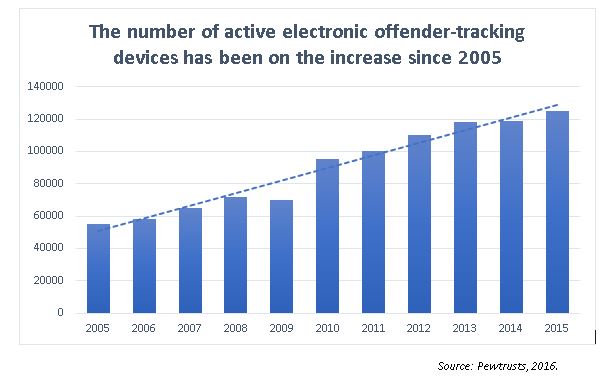 In the past usage of this monitoring systems was, however, shrouded in a murky coat of legality. There were concerns that it infringed on the constitutional rights of subjects, particularly accused defendants (John Howard Society of Alberta, 2000). The Federal Court ruling on July 9, however, clarifies this murky area, effectively setting these technologies on a coalition course to widespread adoption and usage. The implications of this are far-reaching. Amongst the many other positives, it signals the official jumpstart of an industry that was formerly subdued by the former murky characterization of monitoring systems. According to Vox News, electronic monitoring is deemed one of the most probable solutions to the country's mass incarceration problem (Matthews, 2014). With the current gold seal on its legality, one can only expect it to go on to fulfill this mandate, a reality that transcribes to more monitoring systems and a consequent boost to the extent and profitability of the formerly nascent monitoring systems industry.
Monitoring systems will help the judicial system minimize the burden of incarceration
Every year the United States spends roughly $80 billion on incarceration alone (Kelly, 2016). Much of this sum is reserved for housing pretrial detainees since they make up the larger bulk of prison inmates (Wagner and Sawyer, 2018). On the part of a pretrial detainee, the personal and financial costs are even more consequential. One source puts it that the majority of accused offenders when released, shore up an approximate 11% decrease in hourly wages (Baughman, 2017). Another 23% of this bunch will go on to lose their houses in addition to losing some of their properties (Baughman, 2017).
Even more damning is the societal loses consequent of pretrial detention. Children of pretrial detainees are often deprived of emotional and parental support (Baughman, 2009). As you would expect, this has been linked to the development of antisocial behaviors, something that further puts them on the path of being criminal offenders in the future (Baughman, 2017).
Monitoring devices hold the proverbial key to remedying the incarceration problem, and in extension ridding the society of its consequences. Even though the program does come with its attendant cost implications (some sources estimate a $3100 to $4600 fee usually shouldered by the detainee), it goes without saying that these costs pale in comparison to both the long and short-term consequences of pretrial jailing (Baughman, 2017).
All it takes is effective implementation. If and when this does happen, monitoring systems promise to revolutionize the judicial system. Additionally, they look set to create a thriving monitoring systems industry with consequent economic benefits (job creation, profit derivation), as opposed to detainee paying cash bails to courts. This is good news for all stakeholders involved.
References
Aborn, R., Cannon, D. (2013). Prisons: In jail, but not sentenced. Natural Resource Extraction in Latin America. Retrieved from http://www.americasquarterly.org/aborn-prisons
Baughman, B., S. (2017). Costs of pretrial detention. Boston Law Review, 97(1), 1-30. Retrieved from https://www.bu.edu/bulawreview/files/2017/03/BAUGHMAN.pdf
Booth, M. (2018, Feb. 18). Judiciary calls first year of bail reform success, but warns of funding problems. New Jersey Law Journal. Retrieved from https://www.law.com/njlawjournal/2018/02/13/judiciary-calls-first-year-of-bail-reform-a-success/
Gupta, A., Frenchman, E. (2017, Feb. 2). The US bail system punishes the poor and rewards the rich. Quartz. Retrieved from https://qz.com/900777/the-us-bail-system-punishes-the-poor-and-rewards-the-rich/
Hernandez, J. (2018, Jul. 9). Federal court ruling leaves new jersey's bail overhaul in place. Whyy. Retrieved from https://whyy.org/segments/federal-court-ruling-leaves-new-jerseys-bai-overhaul-in-place/
John Howard Society Alberta. (2000). Electronic monitoring. John Howard society Alberta. Retrieved from http://www.johnhoward.ab.ca/pub/pdf/A3.pdf
Kelly, S. (2016, Jul. 7). U.S. spending on prisons grew three times rate of school spending: report. Reuters. Retrieved from https://www.reuters.com/article/us-usa-education-funding-idUSKCN0ZN2L2
Lukic, E., A. (2009). Evaluation of the pretrial services program administered by the Broward Sheriff's Office. Broward County Florida. Retrieved from https://www.broward.org/Auditor/Documents/pretrial_final060909.pdf
Matthews, D. (2014, Jun. 27). Prisons are terrible, and there's finally a way to get rid of them. Vox. Retrieved from https://www.vox.com/2014/6/27/5845484/prisons-are-terrible-and-there-is-finally-a-way-to-get-rid-of-them
Open Justice Foundations (2012). Improving Pretrial Justice: The roles of lawyers and Paralegals. Open Society Foundations. Retrieved from https://www.opensocietyfoundations.org/sites/default/files/improving-pretrial-justice- 20120416.pdf
Pewtrusts. (2016, Sep. 7). Use of electronic offender-tracking devices expands sharply. Pew. Retrieved from http://www.pewtrusts.org/en/research-and-analysis/issue-briefs/2016/09/use-of-electronic-offender-tracking-devices-expands-sharply#0-overview
Subramanian, R., Delaney, R., Roberts, S., Nancy, F., & McGarry, P. (2015). Incarceration's front door: The misuse of Jails in America. Vera Institute of Justice. Retrieved from                 https://law.yale.edu/system/files/area/center/liman/document/workshop16_readings_class08. pdf
The Coalition to End Money Bond. (2017, Feb. 27). Monitoring Cook County's central bond court. Retrieved from http://www.chicagoappleseed.org/wp-content/uploads/2018/02/Courtwatching-Report_Coalition-to-End-Money-Bond_FINAL_2-25-18.pdf
Wagner, P., & Sawyer, W. (2018, Mar. 14). Mass Incarceration: The Whole Pie 2018. Prison Policy Initiative. Retrieved from https://www.prisonpolicy.org/reports/pie2018.html